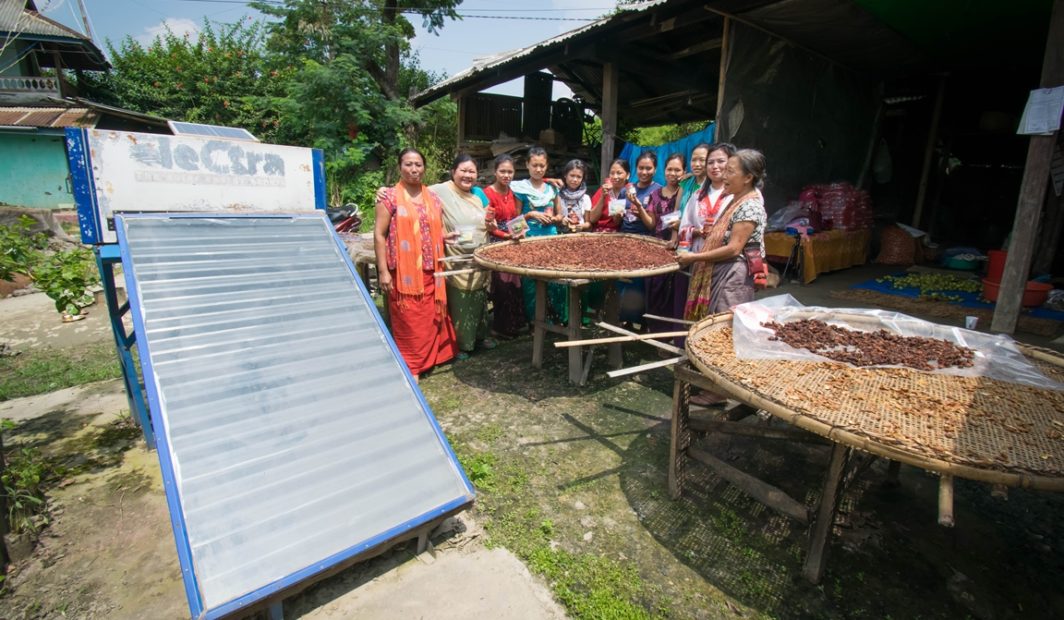 Iccspl-Giz Rural Entrepreneur Installs Solar Dryer To Generate Additional Revenues
Sukham Kiran Bala Devi is 39 year old women from the Kyamgei Khoirom Leikai area of Imphal East District in Manipur, India. She is an authorised dealer and marketer of Poirei Foods, a fruit processing venture she started in 1999.
Earlier, Kiran Bala participated in various fruit processing trainings and did courses organised by the District Industries Centre (DIC) in Manipur. This helped her in understanding the nuances of business. All this inspired her to open a fruit processing unit to prepare various fruit candies and pickles using the raw fruits locally available. She used conventional mode of drying (sunlight) which use to take a long time to adequately dry the fruits for further selling. She was looking for a solution that could reduce the time of drying and is also environment friendly.
In July 2018, ICCO's strategic partner ICCSPL-GIZ Rural Energy Enterprise Synergy Environment and Energy Solutions provided her with a solar drying machine with state of art technology; handholding support on how to use the technology; repairing services as and when needed.
With this new technology, Kiran Bala and her team is now able to dry the fruits quickly (three times faster than before). This has also led to increasing of the quantity as she can dry more fruits in less time. The process of using solar dryer is convenient, faster and hygienic also. She is able to earn nearly EUR 2456 (INR 2 lakh per month) as well.
The various food items prepared under the brand Poirei Foods receive good demand from the people for its unique taste and flavour.
At least 20 locals are being provided jobs by the Poirei Foods to assist her in the activities such as preparation of the fruits for making candy and pickles and packaging. The workers are on daily paid wages as per their performance.
Poirei Foods deals in the manufacturing and sale of pickle items made of fish, chicken, bamboo shoot, mushroom, garlic, mango, lemon, mixed fruit, pineapple, sour apple, gooseberry, plum, sour apple salty, olive, Heimang, Ngari (fermented fish), Hawaijar, U-Morok (big chilly), green chilli, beef and pork and candy items made of Heitup, Heining, Heikru Athumba, Heikru Akangba, sweet mango.