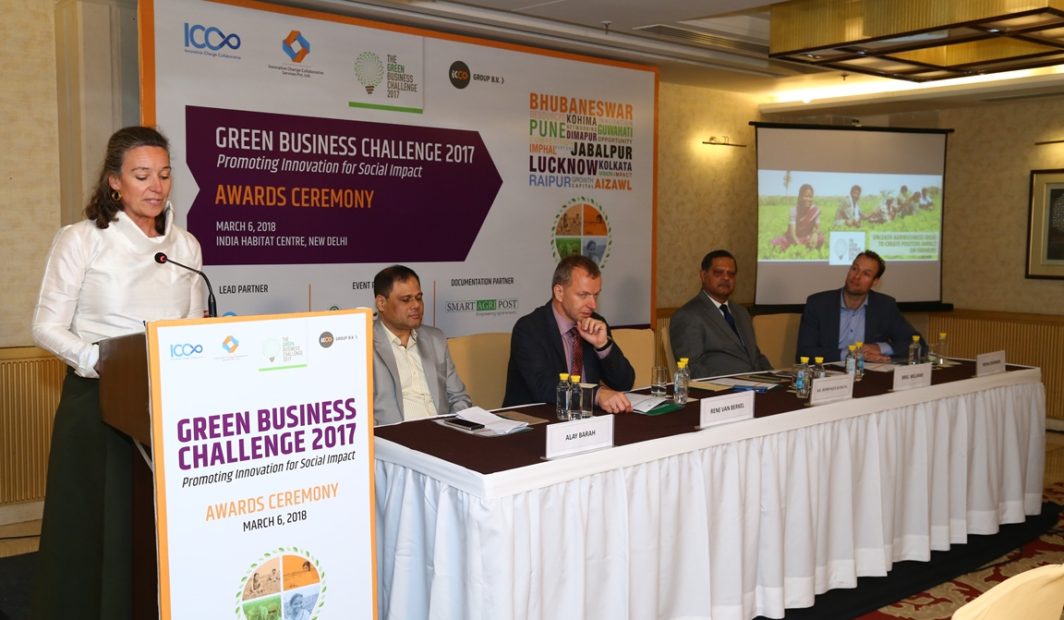 Green Business Challenge 2017 Concludes With The Awards Ceremony In Delhi
March 6, 2018 saw Innovative Change Collaborative Services Private Limited (ICCSPL) and ICCO, supported by partners such as Oil & Natural Gas Corporation Limited (ONGC), Indo Global Social Service Society (IGSSS), National Agriculture Bank for Rural Development (NABARD), Institute of Rural Management Anand (IRMA), and Labs Indigram, host the Green Business Challenge (GBC) Event 2017 Award Ceremony. India Habitat Centre, New Delhi was the venue for the event.
ICCSPL and ICCO envision creating and enabling platforms to identify and foster entrepreneurs/enterprises with innovative ideas that address 'agriculture' challenges focusing in India. Officially launched in 2016 with an aim to uplift the entrepreneurial ecosystem in India, the GBC continued this year as well to cater the entrepreneurs who are pursuing agribusiness opportunities. The idea was to provide entrepreneurs with a holistic service offering that accelerates their growth and increases their sustainability. In the process of doing so, GBC engaged with various stakeholders along the value chain, and provided the entrepreneurs with an excellent opportunity to benefit from – cash rewards, business incubation support, mentoring in essential business skills, feedback from top industry leaders, media exposure and introduction to a pool of leading and potential partners.
The GBC 2017 was based on the theme – "Promoting innovation for social impact" with the focus on the core sectors – Agri-implements and machinery, biotech in agriculture, ICT in agriculture and post-harvest technology. This year the journey began with roadshows in 14 states of India, there were marvelous interactions with hundreds of aspiring start-ups and dedicated entrepreneurs who were an integral part of the process. After the initial screening of around 100 applications and their business proposals, 13 finalists were shortlisted, who made their final pitch to the jury panel comprising of highly recognized individuals and experts such as Dr. Bindu Dey, Secretary, Technology Development Board, Mr. Adarsh Kumar, Senior Agri Business Specialist-World Bank, Prof. Dinesh Awasthi, Former Director (EDI), Mr. Ajay Muttreja, Start Up Advisor /Mentor, Dr. Manisha Acharya, Director-Labs Indigram, Prof C. Shambu Prasad, Professor, IRMA, Mr. Dilip Thosar, CEO, SCEI Pune, Mr. Arvind Agarwal, Regional Investment Manager, C4D Partners, Mr. Arindom Datta, Head, Sustainability Banking-Rabobank Group, Mr. Ajit Kanitkar, Tata Education and Development Trust. The Jury unanimously chose the three most deserving winners from the challenge. EasyKrishi Private Limited emerged as the winner of the competition. Mahismati Farmer Producer Company and Pabhoi Greens bagged the Second and third positions.
The awards evening was graced by Her Excellency Dominique Kuhling, Deputy Ambassador, Embassy of the Kingdom of the Netherlands, as the Chief Guest for the occasion.  In her address, she acknowledged ICCO and ICCSPL's continuous effort towards creating an entrepreneurship ecosystem and assured of the Embassy's support to take the initiative forward. Other distinguished guests present for the occasion included Brig. Williams, Head-CSR, Jindal Steel and Mr. Rene Van Berkel, Representative, UNIDO among others.