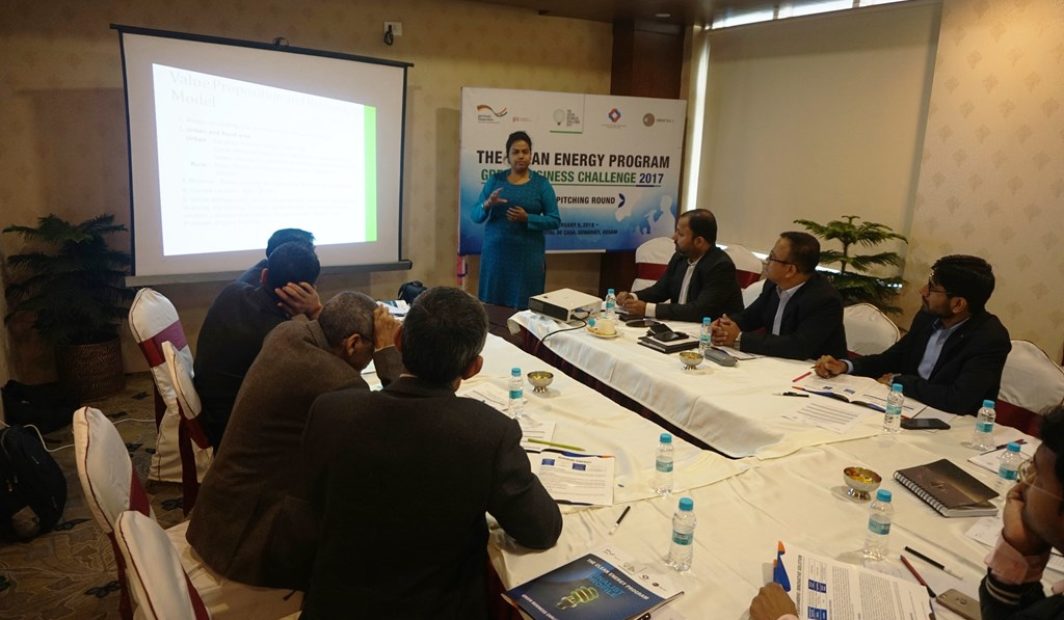 Final Pitching round for Green Business Challenge (Clean Energy Program) held in Guwahati, Assam
The final pitching round of Green Business Challenge 2017 under Clean Energy Program was held on February 9, 2018 at Hotel Royal De Casa, Guwahati. ICCSPL and GIZ jointly organized the event as part of the partnership that aims to identify and nurture new Rural Energy Enterprises (REEs) in the North East India.
15 shortlisted finalists presented their business cases in front of an eminent Jury panel that included M.K.Choudhury, Additional Director, Assam Energy Development Agency (AEDA), K P Philip, Asst. General Manager, Indian Renewable Energy Development Agency (IREDA), Vibhash Garg, Director – GRID, PwC, Sandeep Pandey, CEO, Mera Gaon Power (MGP), Chandra Agarwal, Fund Manager, North Eastern Development Finance Corporation Ltd. (NEDFi), Gaurav Barik, Venture Capitalist, NEDFi, Nilanjan Chaudhury, Head – Credit, Friends of Women's World Banking India (FWWB), and K Ahmed, Adviser (i-STED), Entrepreneurship Development Institute of India.
The winners through the incubation will receive mentorship support from Centre of Excellence (CoE). The support will differ as per the need and environment in which the enterprise is positioned, within the terms identified by the business plan itself. The enterprise will strengthen their capacity and foster networking among various stakeholders. To strengthen the enterprises a network with the group of investors will be introduced and a stakeholder workshop will be organized. The graduated enterprises will be exposed to the pool of investors and venture capitalists to access financial resources.
The Clean Energy Program focusses on addressing the prevailing gaps within the existing small and medium enterprises initiating first of its kind in the North-East region. This program was a step forward in creation of a clean-tech ecosystem comprising of numerous institutions and various government and non-government stakeholders.
The highlights of the scouting and screening process under the Green Business Challenge (GBC) 2017:
Organized roadshows in 5 states (Assam, Manipur, Nagaland, West Bengal and Orrisa)
Collaborated with 4 Technology Business Incubators.
Received 100 registrations and 50+ business proposals.
Reached out to 500 stakeholders including Entrepreneurs and Government Stakeholders.